Label Storage & Attachment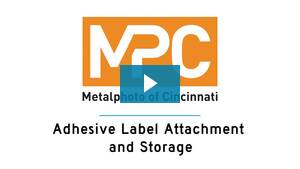 To ensure maximum bond strength of your pressure sensitive labels from storage through application, Metalphoto of Cincinnati recommends the following storage and handling:
Store your labels in a plastic bag at room temperature conditions of 72°F (22°C) and 50% relative humidity. Storing labels at higher or lower temperatures may decrease the level of adhering performance.
BEFORE YOU BEGIN, HAVE THE FOLLOWING SUPPLIES:
Your pressure sensitive labels
An industrial cleaning solution or isopropyl alcohol
Clean rags or paper towels, and
A soft rubber roller
APPLICATION HINTS:
Ideal adhesive application temperature range is 70°F to 100°F (21°C to 38°C). Initial application to surfaces at temperatures below 50°F (10°C) is not recommended for most pressure sensitive adhesives because the adhesive becomes too firm to adhere readily.
Bond strength can also be improved with firm application pressure and moderate heat (for metal surfaces only), from 100°F to 130°F, causing the adhesive to develop intimate contact with the bonding surface.
STEPS TO PROPERLY APPLY YOUR ADHESIVE LABEL:
Clean and dry the mating surface before applying the label. It is important to remove all grease, oils, rust, waxes, and other contaminants that may interfere with adhesion.
Handle the label by its edges to avoid touching the adhesive.
Position one edge of the label on the surface, then using the roller or firm thumb pressure, move across the label to complete the application. This will prevent air from trapping between the label and the surface, and help the adhesive fasten into the mating surface. Adhesives will meet maximum bond strength after approximately 72 hours.
AVOID INCORRECTLY INSTALLED LABELS:
Do not apply labels to a dirty surface.
Do not pre-curl the (foil) label while peeling it from the backliner.
Do not touch the back, as the will contaminate the adhesive.
Do not loosely apply the label. All edges of the label must be firmly adhered to the surface.
Do not use a hard roller when applying the label. This could damage the label material.
NOTE: MPC recommends that you conduct a test of surface preparation and label adhesion before ordering labels or adhering actual production labels.
What Our Customers Say...
Quality delivered on time at a reasonable price. How could you ask for more?
Cooper Power Tools
We never have to reject or return items any of the nameplates we have ordered from MPC. The nameplates are made to specs and made to last.
Manufacturing Company
When I order our nameplates, panels and labels, I always get what I need in a professional manner, price and delivery.
Schneider Brothers Electric, Inc.
LeBlond Ltd. has been using Metalphoto of Cincinnati for at least 20 years with no problems. I never worry about the quality of product. We always receive competitive pricing and on-time delivery.
Ken Smith LeBlond Ltd
Quality is excellent, lead times are reasonable and pricing is competitive. Metalphoto of Cincinnati is outstanding at supplying our metal nameplates and labels, as well as addressing our needs and expectations as good as, if not better than, any of the other suppliers. MPC works well with helping us meet the demands of our customers.
Manufacturing Company