Metalphoto Finishes & Anodized Color Chart
For applications requiring screened color, MPC offers the following Metalphoto Anodized Colors (MP).  Additionally, we can custom match to a Pantone (PMS) equivalent or a sample you provide.  Due to the distinct nature of aluminum, Metalphoto Anodized Colors are approximates only and we cannot guarantee an exact color match. Contact MPC for more specific information.
Metalphoto Finishes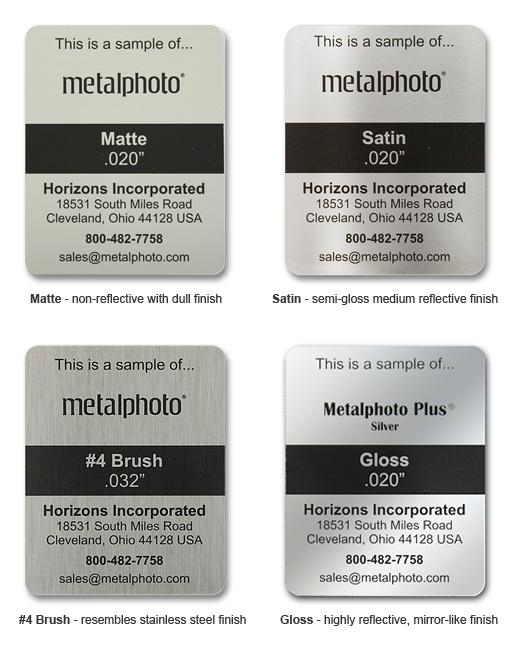 Anodized Colors
 

Gold (MP 100)

PMS 871C

 

Yellow (MP 60)

Process Yellow C

 

Black (MP 80)

PMS Black C

 

Orange (MP 70)

PMS 1535C

 

Brown (MP 75)

PMS 4695C

 

Green (MP 27)

PMS 3425C

 

Dark Green (MP 25)

PMS 350C

 

Dark Blue (MP 40)

PMS 7463C

 

Blue (MP 41)

PMS Reflex Blue C

 

Light Blue (MP 42)

Process Blue C

 

Violet (MP 45)

PMS 261C

 

Magenta (MP 50)

Process Magenta C

 

Red (MP 51)

PMS 200C

 

Burgundy (MP 53)

What Our Customers Say...
Quality delivered on time at a reasonable price. How could you ask for more?
Cooper Power Tools
We never have to reject or return items any of the nameplates we have ordered from MPC. The nameplates are made to specs and made to last.
Manufacturing Company
When I order our nameplates, panels and labels, I always get what I need in a professional manner, price and delivery.
Schneider Brothers Electric, Inc.
LeBlond Ltd. has been using Metalphoto of Cincinnati for at least 20 years with no problems. I never worry about the quality of product. We always receive competitive pricing and on-time delivery.
Ken Smith LeBlond Ltd
Quality is excellent, lead times are reasonable and pricing is competitive. Metalphoto of Cincinnati is outstanding at supplying our metal nameplates and labels, as well as addressing our needs and expectations as good as, if not better than, any of the other suppliers. MPC works well with helping us meet the demands of our customers.
Manufacturing Company