Over the past few months MPC has been conducting a preliminary investigation of industrial safety. Participants in fields that need to follow safety regulations every day have found value in testing their knowledge and reviewing the results. Overall, 30% of respondents failed the quiz. Here are some other interesting findings from this initial evaluation of more than 100 respondents.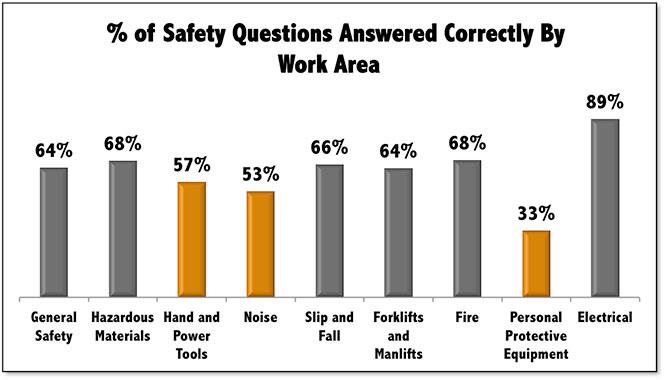 Hand and Power Tools
Hand and Power Tools is one of the 3 sections that respondents had the most difficulty with. Questions about tool maintenance and safety precautions for various tool types were most often answered incorrectly.
Noise
Noise-related questions were answered incorrectly 47% of the time. Technical questions about decibel levels and utilizing safety measures to prevent hearing loss gave respondents the most trouble.
Personal Protective Equipment
Respondents were least knowledgeable about Personal Protective Equipment—questions in this section were answered incorrectly 67% of the time. Almost all respondents answered questions about protective helmets and gloves incorrectly.
How will you or your employees score?
Share the Quiz!
{fshare}
{ttweet}